Book One Daughter Of Smoke & Bone
Publisher: Little, Brown Books for Young Readers
Publication Date: September 27th, 2011
Rating:
4
stars
Pages: 418
Goodreads Summary
Around the world, black handprints are appearing on doorways, scorched there by winged strangers who have crept through a slit in the sky.
In a dark and dusty shop, a devil's supply of human teeth grown dangerously low.
And in the tangled lanes of Prague, a young art student is about to be caught up in a brutal otherworldly war.
Meet Karou. She fills her sketchbooks with monsters that may or may not be real; she's prone to disappearing on mysterious "errands"; she speaks many languages—not all of them human; and her bright blue hair actually grows out of her head that color. Who is she? That is the question that haunts her, and she's about to find out.
When one of the strangers—beautiful, haunted Akiva—fixes his fire-colored eyes on her in an alley in Marrakesh, the result is blood and starlight, secrets unveiled, and a star-crossed love whose roots drink deep of a violent past. But will Karou live to regret learning the truth about herself?
While Reading I Recommend:
Tea: I was drinking Rooibos tea, this refreshing tea went amazing with this story. Fruity but earthy at the same time.
Cons:
I am not thrilled with the ending. It gave me whiplash. It went from present to past to different past to another past…THEN present. I will admit, I was very tempted to skip it.
Some insta-love.
Pros:
First off, let me say how beautiful Laini Taylor writes and her descriptions are on point. She captured the essence of the places she took us in the book!
I LOVED Karou! Her sketchbooks and art are basically my art goals! The way Laini Taylor describes Karou's drawings is so breathtaking and really brings them to life
Also, who wouldn't love a badass blue haired girl with tattoos and a yearning to fly? No seriously. Who wouldn't??
Zuzana, she is Karou's best friend. I can not express how much I adore this character! She was quirky, hilarious, and the definition of a true friend. I need some more of her in the next books!
Also, Zuzana and Karou in this book are friendship goals! Like all the parts with them made me so happy!(:
Now, let's talk about Brimstone and the rest of her family! AHHGGK! Well, this is all I ask for in a book: DEMONS. (You will soon learn my obsession with villains, otherworldly things, & demons). So Brimstone deals in wishes in exchange for teeth! Throughout the whole book, you are like why the hell does he need all these teeth! You will find out…
Basically, Brimstone was definitely like a father figure for Karou. That was a very sweet element to this story!
So when; Akiva came into the story. I really tried not to like him because there is some insta-love. But lordy I couldn't help it! This guy is a seraph and love how he displayed his lack of emotions and his progression with Karou.
I was really enjoying them and then…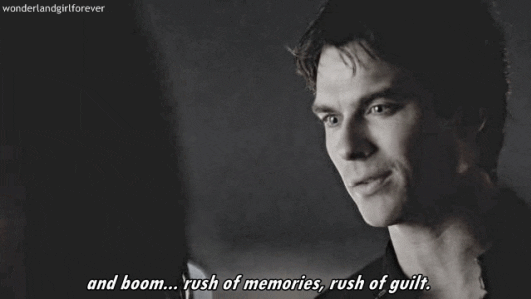 This book put me in a tiny reading slump, I will admit! I was so hurt by it! All the feels with this book!
And there so many quotable things in this story. But this one is one of my favorites, it provokes you to really think about it!
Have you ever asked yourself do monsters make war or does war make monsters?
This is not a simple love story. Hell no. This is about friendship, duty, loyalty, betrayal, family, responsibility, inequality, hardship…I just can't list how much more this story has to offer. Just read it(:
Recommend?:
YES! I recommend this book to fantasy lovers, young adult readers, and readers who appreciate the beautiful writing. So like everyone should read this and discuss this book with me!
I rated this book 4 stars because I was so thrown off by the ending, I'm actually bitter. However, I loved the book too much to be that mad.
Let me know if you have read this or not! If so, who was your favorite character & why? Also, would you want me to write a spoiler review where I discuss the book with y'all?